Core Features
Provide awesome services
in following domains
Website
Development
Whether your company needs a new website to engage with customers, an enterprise-class web app to automate processes, or a web portal to help align your employees' workflows, our web developers have the programming expertise to build it quickly, efficiently and in perfect alignment with your vision.
Game
Applications
We offer branded games for mobile and social media. We build games to support your digital marketing strategy, improve brand awareness, attract new users and increase community engagement. Building your own game is the best way to get your audience's attention!
Mobile
Application
We design responsive and adaptive web applications or mobile apps (native or hybrid) for iOS or Android with the scalability and interoperability of a web app, including features like push notifications, easy social sharing and superior indexability.
UI
UX
For our designers the user interface is as important as the user experience. The development of the website can be followed through prototyping example pages in Adobe XD. In combination with our agile project management we make sure that your visitor/user will have the optimal user experience when using your app or visiting your website.
Marketing
Having trouble with getting traffic to your website? Our digital marketing team helps you to get noticed on the internet by improving the SEO and SEA on your website. Be more visible through different channels, and attract relevant traffic to your website. With just the finishing touch of copywriting, your website will stand out from your competitors.
About Us
WUQuest was born from our quest to build our own mobile communication platform. With years of experience in the tech start-ups and scale-ups world, we were able to establish a large network and gain the expertise and resources you need to succeed. We're here to help make your vision become reality, to turn your ideas into digital creations and make sure that your realizations will be found and picked up by your target audience. Don't hesitate to contact us, you won't regret it.
Our diverse and dedicated teams with experience in many different industries deliver high quality projects and state-of-the-art services and solutions.

Our proven techniques used in past projects give us confidence in the quality and effectiveness of our design, development, and deployment processes.

WUQuest has 99+ clients globally who have the utmost trust and belief in the company.
Know Us Better
Why Choose Us
We worked with start-ups and scale-ups. We understand the challenges of building breakthrough digital products in little time with a limited budget.

We know what a modern, high quality product should look and feel like.

We know how important speed is and don't waste time chasing perfection.

We have common sense and we make reasonable decisions without needing explicit design instructions

We offer an A-Z solution including development, optimizing and paid advertisement.
Our Flow
How we build products
We adjust the way we work according to individual needs and we're not afraid to test new solutions. Do you need a digital product, or you want to set up a marketing campaign… or you want both? We offer both and we are by your side from A till Z. With that in mind, we follow the following 5 main steps in our process
Discover
First, we focus on understanding your customers, and how you create value for them. We do research and analysis necessary to prepare product specifications and road maps. We try to answer all strategic questions regarding your product.
Design
Once the resulting product strategy and feature requirements are clear, we create the design, focusing on intuitive and effortless user experience. We want make sure that the products we make are both visually pleasing and easy to use.
Develop
Our scalable team of engineers builds and manages your entire tech infrastructure. We create apps for iOS & Android, responsive web apps and everything required behind the scenes to run your services.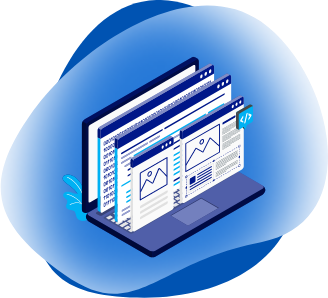 Marketing
We know the ins and outs of your website, which makes advertising and optimizing your digital product much easier. Our SEO specialists make your website or products easilty findable on various platforms, which leas to better conversion. And promoting it through a custom made online advertisement campaign that suits your needs.
Scale
As your customers embrace your new app, we give you ongoing support. We take care of the hosting, maintenance and basic updates. We are with you for the long run - when the time is right, we help you take your app to the next level.
Know Us Better
Our Projects
TESTIMONIALS
What Our Clients Say
The best team I ever worked with. They can see the bigger picture and find their paths with awesome ideas. Really speechless about their good work.
Fantastic team! Extremely helpful, knowledgeable and fast work. They fit within budget and within schedule, we would definitely use them again!
They handled the project with professionalism and respect. I would love to continue working with them should another project comes up. Thanks!
WUQuest is one of the best development organization. One of the best thing is they communicate everything. Hope to work again soon.
Highly Creative & intelligent individuals
Meet The Team
Mats
Mede-zaakvoerder (CMO)
Wout
Mede-zaakvoerder (CCO)
Need professional
guidance?
We are just one click away. You have an idea? You want to build the MVP? We will help you get to market with the proper go-to-market strategy. You need a website or want to rebrand your existing website? Are you in need for a digital marketing campaign? Or you just need a (new) logo? Just leave a note and we'll get back to you asap.